"A church in the Word, under the cross, ministering to the world"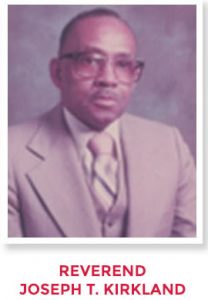 We praise God that on Friday, September 30, 1966, he gave the vision to Reverend Joseph T. Kirkland and nine others to organize a worship place; a place devoted to community activities, affairs, and a place to spiritually, morally, educationally, socially, economically and politically embrace and enrich the total life of a man as taught by Jesus Christ. This place is named "Church of the Redeemer (Baptist)" located on the corner of 24th and Dickinson Street for 53 years of which Reverend Joseph T. Kirkland was elected founder and pastor. He faithfully served for sixteen years until he was called home by the Lord on March 20, 1982.
We praise God for sending his shepherds to oversee his people for the next 37 years:
Rev. Gilbert G Campbell – 2nd Pastor
Rev. Dr. Tyrone E. Kilgoe – 3rd Pastor
Rev. Dr Wayne E. Croft, Sr.– 4th Pastor
Rev. Omari K. Hughes – 5th Pastor
Rev. David S. Smith - 6th Pastor
We praise God that his hands were upon us as we became stewards of his kingdom caring for his people and spreading the "Good News" through our missionary ministries to lead thousands of souls to God. Since our inception, we have demonstrated our understanding of and embrace the meaning of Sacrificial giving it takes to build and maintain a place of worship. Through the grace of God, we have accomplished:
• Summer programs for the youth of the church and surrounding communities.
• Procurement and renovation of homes for families in need.
• Established Redeemer Federal Credit Union to assist in the financial needs of members.
• Initiated over 45 ministries for Kingdom building.
• Built and paid off 2.5 million dollar mortgage for Redeemer Christian Life & Education Center (RCLEC) , an edifice for church/community activities and a Christian learning institution.
• Membership grew from 177 to over 1,950.
• Procured 1 city block of land, 2500 Dickinson to 2500 Reed Streets for the future growth of the Church of the Redeemer Baptist.
• Established in 2006 an ETA certified (Evangelical Training Association) biblical institution, Redeemer Institute for Christian Education (R.I.C.E.).
• Licensed and ordained many ministers to, "Go ye therefore and teach all nations".
• Established a collaborative partnership between the Church of the Redeemer, Nationalities Services Center and the PA Horticultural Society and the Point Breeze communities to use a section of the church's property at 2500 Reed Street to grow healthy vegetables in raised garden beds.
• Made significant advancements in Redeemer's Media Ministries and social media that disseminates and takes God's Word to the nations and His people utilizing the highest technology available while maintaining administrative, technical, fiscal, and spiritual integrity.
It is God's grace and mercies that made us strong through the trials that came. Now, in this period of transition, we can reflect from where we came and know what we need to move forward.
It does not yet appear what we shall be" 1 John 3:2
'but continue the things that thou hast learned and hast been assured of, knowing of whom thou last learned them." II Timothy 3: 14.