REVEREND JOSEPH TIMOTHY KIRKLAND, Th.M.
"A Man for All Seasons"
 1966-1983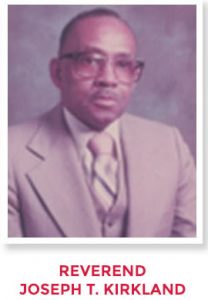 The late Reverend Joseph Timothy Kirkland, founder of The Church of the Redeemer (Baptist), was the sixth (6th) child born to the late Reverend Dr. James E. Kirkland and Sollie Jones Kirkland in Durham, North Carolina, on March 19, 1922. The Kirkland family moved to Philadelphia, PA. Where he attended and graduated from Durham Elementary, Barrett Jr. High and Ben Franklin High Schools.  Reverend Kirkland attended Virginia Union University, but his college years were interrupted by a military obligation.  He served four and a half years in the Army as a member of the Military Police.  During his deployment, much of his leisure time was spent helping soldiers learn to read, write and understand their civil rights.
After receiving an honorable discharge, Reverend Kirkland returned to Virginia Union University and became President of the Student Council, Polemarch of Kappa Alpha Psi Fraternity and a member of the school choir.  He earned an A.B. from Virginia Union University in 1948 and a B.D. from Crozer Theological Seminary in 1951. His graduating class had the largest enrollment of African Americans in the history of the school and included Martin Luther King Jr., Marcus Woods, Cyrus Pyle, Water McCall and Horace Whitaker. His Th.M. was earned in 1953 from the Divinity School of the Protestant Episcopal Church. Rev. Kirkland was baptized in 1931, licensed in 1947 and ordained in 1951; he served as assistant pastor at Union Baptist Church in Philadelphia, Pennsylvania.
Rev. Kirkland was a leader in the local Civil Rights Movement in the '60's.  He led the 400 Black Preachers March to confront the school board, and worked with other leaders in the boycott against the then segregated Inquirer, Coca Cola and Girard College.  He also served as president of the South Philadelphia branch of the NAACP. Rev. Kirkland married Lydia Pelzer in August 16, 1949. They have two daughters, Dr. Claudia Lyles and Judge Lydia Kirkland.
On Friday September 30, 1966, Reverend Kirkland and nine Christians met at the home of Mr. Henry Faison, in the 5400 block of Sansom St. and organized The Church of the Redeemer (Baptist). He conducted the first church service on October 2, 1966 at 1903 Federal St. Under his leadership, the church's indebtedness was paid off in seven years. Plans were made to expand the church and the land where the Redeemer Christian Life and Education Center stands were purchased.
Rev. Kirkland was called home on March 22, 1982 and will be remembered for his vision, intellect and outgoing personality. He loved his family, the church and the Lord, and dedicated his life for the betterment of mankind.
His favorite hymns included, When Peace Like a River, Blessed Assurance and The Name of Jesus. He loved to recite the Prayer of St. Francis of Assisi and John 14.