REVEREND DR. GILBERT G. CAMPBELL, JR.

Reverend Gilbert G. Campbell, Jr. is a native of Norfolk, Virginia and the son of the late Dr. and Mrs. Gilbert G. Campbell, Sr. He is a product of the public schools of Richmond, Virginia. He graduated with honors from Norfolk State University, Norfolk, Virginia in 1975 with a Bachelor of Arts in Social Work.
In 1978, he received his Master of Divinity degree from Andover Newton Theological School, Newton Center, Massachusetts with honors. Dr. Campbell has also been a senior minister at churches in Massachusetts and North Carolina He has done post-graduate studies at the following institutions: Andover-Newton Theological School; Harvard Divinity School; Boston College; Eastern Baptist Theological Seminary and Oxford University, Oxford, England. He earned his Doctor of Ministry degree from United Theological Seminary, Dayton, Ohio, in May, 1993. At United Theological Seminary, he was a Samuel D. Proctor and Otis Moss Fellow.
At Andover Newton, he was a recipient of the Whittemore Award for Outstanding Preaching and Promise in The Parish Ministry and a recipient of The Rockefeller Protestant Fellowship. He is listed in the 1988 edition of Outstanding Young Americans.
Dr. Campbell served as pastor of The Church of the Redeemer Baptist from March 1983 to October 1988. During his tenure at Redeemer, the church prospered spiritually, physically, and financially. The church loved Pastor Campbell and many were saddened to hear of his departure to the New Calvary Baptist Church of Norfolk, Virginia. Pastor Campbell has three children, Gilbert G. III, Erica and Lauren.
REVEREND DR. TYRONE E. KILGOE
Reverend Dr. Tyrone E. Kilgoe was born the son of Lacy Herring, Jr. and Shirlene Kilgoe in Bridgeville, Delaware on May 30, 1957. His mother reared him in the home of his grandparents of Seaford, Delaware, where he spent these formative years. He was raised in the John Wesley United Methodist Church, christened at the age of twelve, attended Sunday School regularly, sang with the Junior Choir, and served on the Junior Usher Board
Dr. Kilgoe graduated from High School In 1975 in Seaford Delaware. In September of 1975 Dr. Kilgoe began matriculating at Eastern College of St. Davids, Pennsylvania on a basketball scholarship. On April13, 1976 Dr. Kilgoe committed his life to Christ, chose to leave his Methodist roots and was baptized by his college classmate, Rev. Allen Newman at MT Sinai Baptist Church in Lansdowne, Pennsylvania. Dr. Kilgoe graduated from Eastern College and received the Janice Stead Memorial Award for Christian Leadership along with a Bachelor of Arts Degree in 1979.
Dr. Kilgoe continued to pursue education excellence and earned a Master of Divinity Degree from Union Theological Seminary of New York City in 1982. He began matriculating at the United Theological Seminary of Dayton, Ohio in 1990 as a Proctor Fellow, completing a dissertation in 1992 entitled "Picking "Up The Pieces" Rebuilding an African American Baptist Church after Congregational Separation.
Dr. Kilgoe served on the executive level with the American Baptist Churches in the USA as Program Associate for Young Adult Ministry, 1985-1989. During his tenure there he was noted as one of the "Outstanding Young Men in America." Dr. Kilgoe also had the privilege of serving as Associate Pastor of Consolation Baptist Church in Philadelphia, Pennsylvania under the leadership of his father-in-law, Dr. Alden A. Gaines, from 1983-1989.
Dr. Kilgoe formally served as pastor of The Church of the Redeemer Baptist in Philadelphia, Pennsylvania from 1989-1991. During that time many new programs were initiated, building renovations were completed, and the membership increased significantly.
Dr. Kilgoe is married to Dana Gaines Kilgoe and they are the proud parents of three sons, Brandon, Brent, Bryeen, and a daughter, Biyha.
REVEREND DR. WAYNE E. CROFT, SR., D. Min., PhD
Reverend Dr., Wayne E. Croft, Sr., served as the pastor of The Church of the Redeemer Baptist in South Philadelphia from June 1993 through June 2012. His deeply spiritual and prophetic vision rejects the false trifurcations between the pulpit, the academy and the community. Through his God-given holistic vision he led Redeemer into a 1.7 million dollar multi-purpose building. During his tenure at Redeemer the membership grew from 177 to over 1,900.
Dr. Croft serves as founder of the Redeemer Renaissance Community Development Corporation, a member of the Kappa Alpha Psi Fraternity, Inc., and has been inducted into the Martin Luther King, Jr., Board of Preachers of Morehouse College in Atlanta, Georgia. The African-American Pulpit Journal published his sermons; The Promise Guaranteed (Summer 1999), A Candidate for the Hall of Faith (Winter 2008-2009) and his article entitled What Does it Mean to Preach Biblically Today (Winter 2003). He is a contributor to the book, From One Brother to Another: Voices of African-American Men, Volume II. (Judson Press). He has served as the Assistant Professor of Homiletics and Liturgics at Palmer Theological Seminary of Eastern University in Philadelphia and now serves as The Jeremiah A. Wright, Sr., Associate Professor of Homiletics and Liturgics in African American Studies at Lutheran Theological Seminary at Philadelphia.
Dr. Croft is a graduate of Pinebrook Junior College where he received an Associate's degree and graduated Magna Cum Laude from Trinity College receiving his Bachelor of Arts degree. He received the Master of Divinity degree from Eastern Baptist Theological Seminary (now Palmer Theological Seminary), Master of Theology degree from Princeton Theological Seminary, and graduated with distinction from Drew University earning a Doctor of Ministry degree. He earned a Master of Philosophy degree from Drew University in May 2005 and in 2008 he received a Doctor of Philosophy degree from Drew University in Madison, New Jersey. His doctoral dissertation was entitled "You Jes' Wait A Little: A Comparison of the Motif of Hope in African American Preaching During the Slave and Post-Civil War Periods.
Dr. Croft is married to Dr. Lisa L. Croft, a family physician and they have three children, Darlene, Wayne Jr., and Candace Nicole.
REVEREND OMARI K. HUGHES, M. Div.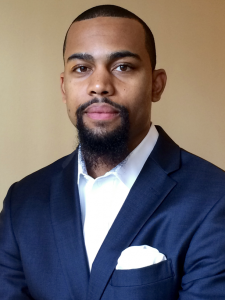 Reverend  Omari Hughes, the son of Frank and Cheryll Hughes, is a native of Richmond, Virginia. He is the husband of Natalie Marshall Hughes and together they are the proud parents of Khalil Omari. He is a graduate of Hampton University where he obtained his Bachelor's Degree in Broadcast Journalism from the Scripps Howard School of Journalism and Communications. He graduated from Hampton University Magna Cum Laude in the Spring of 2006.
Upon graduation from Hampton, Reverend Hughes accepted as position as Director of New Media at WMAR-TV ABC2 News in Baltimore, Maryland. There he managed the station's interactive department. In addition to his managerial  roles, Reverend Hughes also served as the anchor of a new and innovative online only show, the ABC2 Netcast.
After two years, Reverend Hughes left Channel 2 in February of 2009 to accept a position as the Director of Interactive Communications  for MsgWorx, an interactive communications company specializing in multimedia based communications. There he headed the company's production department overseeing the production of the company's online communications and helped to shape the structure and direction of a young and swiftly growing company.
Reverend Hughes acknowledged his call to the ministry in the Fall of 2008. He was blessed to receive his license to preach from the Second Baptist Church in Richmond, Virginia in 2009 under Reverend Dr. James H. Harris, Senior Pastor. To prepare himself for God's ministry he left his position a MsgWorx to enroll as a full time student at Princeton Theological Seminary, where he received his Masters of Divinity Degree.
During the summer of 2010, Reverend Hughes served as intern minister at the Christ Presbyterian Church in Ghana, West Africa. It was a life altering experiencing that God used to confirm Reverend Hughes' call to the Pastorate. Reverend Hughes was ordained at the Bright Hope Baptist Church in Philadelphia, PA, where he served as interim Youth Minister.
Reverend Hughes was called to serve as interim Preacher at the Church of The Redeemer Baptist, in Philadelphia, PA in January of 2013. As the church saw fit, he was soon called to serve as Interim Pastor and on October 28, 2013 he was called to serve as the 5th Pastor of The Church of the Redeemer Baptist. Reverend Hughes believed that God had called The Church of the Redeemer to Go Higher! He looked forward to serving God and the church as they strived together to carry out the vision of God for this great congregation.